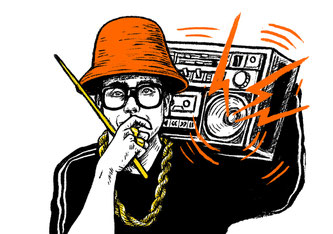 DMZ – KOLUMNE ¦ Alon Renner ¦                        
Herzlich willkommen zu meiner neuen Kolumne. Einer Kolumne zum Mitsummen. Denn passend zu meiner Geschichte über Jean-Michel Basquiat, habe ich Euch eine Playlist mit den coolsten Songs der frühen 80er Jahre zusammengestellt. Dabei lag die Herausforderung darin, auf viele der üblichen Hits zu verzichten und eine Auswahl zu treffen, die Euch überrascht und Songperlen enthält, die Ihr noch nicht kennt oder schon lange nicht mehr gehört habt. Sollte ich den einen oder anderen Eurer Lieblingstracks vergessen haben: schreibt mir dies in die Kommentarspalte.
Ganz liebe Grüsse
Euer Alon
Hier findet Ihr mich auf Social Media:
Facebook: Alon Renner
Instagram: alon_renner
Ladies and Gentlemen:
Here we go! All Killer - No Filler! 
RRRrrrr presents:
Die ultimative Playlist zur schönsten Pause der nächsten Tage.
Die 64 coolsten Songs der frühen 80er Jahre.

1) Depeche Mode - Just Can't Get Enough
https://www.youtube.com/watch?v=_6FBfAQ-NDE
2) Eurythmics – Who's That Girl?
https://www.youtube.com/watch?v=lgItOFKDo7c
3) The Clash – Rock The Casbah
https://www.youtube.com/watch?v=bJ9r8LMU9bQ
4) Yazoo – Nobody's Diary
https://www.youtube.com/watch?v=1qq7jTPkjVg
5) Fad Gadget – Luxury
https://www.youtube.com/watch?v=D1n5qhqiRFI
6) Haysi Fantayzee – Shiny Shiny
https://www.youtube.com/watch?v=WQ9TDsltQI0
7) Palais Schaumburg – Jawohl, meine Herrn
https://www.youtube.com/watch?v=m1U7becIQ9M
8) Yello - Vicious Games
https://www.youtube.com/watch?v=COrHxDsaTJI
9) Queen – Flash
https://www.youtube.com/watch?v=LfmrHTdXgK4
10) Kid Creole & The Coconuts – Stool Pigeon
https://www.youtube.com/watch?v=C3xU0fnjUcg
11) Grandmaster Flash & The Furious Five – The Message
https://www.youtube.com/watch?v=4kjeWGQ175g
12) Talking Heads - Road To Nowhere
https://www.youtube.com/watch?v=LQiOA7euaYA
13) Joy Division – Love will tear us apart
https://www.youtube.com/watch?v=zuuObGsB0No
14) Grace Jones – I've Seen That Face Before
https://www.youtube.com/watch?v=nIN3IE3DHqc
15) Kate Bush – Wuthering Heights
https://www.youtube.com/watch?v=Fk-4lXLM34g
16) Depeche Mode - See You
https://www.youtube.com/watch?v=zuWQitNlvf0
17) The Cure – The Lovecats
https://www.youtube.com/watch?v=mcUza_wWCfA
18) Real Life – Send Me An Angel
https://www.youtube.com/watch?v=0R6WIbx8ysE
19) Blondie – Rapture
https://www.youtube.com/watch?v=pHCdS7O248g
20) The Sugarhill Gang – Apache
https://www.youtube.com/watch?v=YKhi9ITkRgA
21) Run DMC – It's Tricky
https://www.youtube.com/watch?v=l-O5IHVhWj0&t=134s
22) Barrington Levy – Here I Come
https://www.youtube.com/watch?v=clCAfLfPWM4
23) Kid Creole & The Coconuts – Annie I'm Not Your Daddy
https://www.youtube.com/watch?v=mRO9aBAQ8wc
24) Musical Youth – Pass the Dutchie
https://www.youtube.com/watch?v=dFtLONl4cNc
25) Ton Steine Scherben – Der Turm stürzt ein
https://www.youtube.com/watch?v=5Ho5u9_EMSI
26) Fun Boy Three – The Lunatics Have Taken Over The Asylum
https://www.youtube.com/watch?v=sWLdZFCMx8Y
27) Talk Talk – Such A Shame
https://www.youtube.com/watch?v=lLdvpFIPReA
28) Bronski Beat – Smalltown Boy
https://www.youtube.com/watch?v=88sARuFu-tc
29) Suzanne Vega – Toms Dinner
https://www.youtube.com/watch?v=FLP6QluMlrg
30) Kate Bush – Babooshka
https://www.youtube.com/watch?v=6xckBwPdo1c
31) Tracey Ullman – They Don't Know
https://www.youtube.com/watch?v=f9un119lq4c
32) Fad Gadget - Collapsing New People
https://www.youtube.com/watch?v=tLb9IvqxdH8
33) Grauzone – Eisbär
https://www.youtube.com/watch?v=bIIGKV27FaY
34) Stewart Copeland – Away From Home
https://www.youtube.com/watch?v=99c8HMxtg-Q
35) Soft Cell – Sex Dwarf
https://www.youtube.com/watch?v=lrRmgbchiGY
36) Beastie Boys – You Gotta Fight For Your Right To Party
https://www.youtube.com/watch?v=eBShN8qT4lk
37) Toto Coelo – I Eat Cannibals
https://www.youtube.com/watch?v=kZnl0C-apf0
38) Der Plan – Gummitwist
https://www.youtube.com/watch?v=arl9QNEpJzs
39) Prince – Let's Go Crazy
https://www.youtube.com/watch?v=aXJhDltzYVQ
40) Grandmaster Flash & The Furious Five – White Lines
https://www.youtube.com/watch?v=7bCdrDhUjPo
41) Stetsasonic – Talking All That Jazz
https://www.youtube.com/watch?v=2kdQ4soLcac
42) Salt N Pepa – Push It
https://www.youtube.com/watch?v=vCadcBR95oU
43) A Flock Of Seagulls - I Ran (So Far Away)
https://www.youtube.com/watch?v=iIpfWORQWhU
44) ABC – The Look Of Love
https://www.youtube.com/watch?v=cNEdxZURTaI
45) Joe King Carrasco – Party Weekend
https://www.youtube.com/watch?v=ksOCraawZME
46) DAF – Der Mussolini
https://www.youtube.com/watch?v=eYcUGO-ISXQ
47) Stray Cats – Stray Cut Strut
https://www.youtube.com/watch?v=mbAyj1h9vI0
48) Chaka Khan – I Feel For You
https://www.youtube.com/watch?v=YW0sxgYAmLM
49) Prince – 1999
https://www.youtube.com/watch?v=rblt2EtFfC4
50) Eddy Grant – Electric Avenue
https://www.youtube.com/watch?v=IuwxZSIS__4
51) Sister Nancy – Bam Bam
https://www.youtube.com/watch?v=qXnT3LFTc-s
52) Yello – Lost Again
https://www.youtube.com/watch?v=zURHUV2b4p4
53) Rio Reiser – König von Deutschland
https://www.youtube.com/watch?v=BzGHhaMUqSQ
54) Visage – Fade To Grey
https://www.youtube.com/watch?v=UMPC8QJF6sI
55) Peter Godwin – Images of Heaven
https://www.youtube.com/watch?v=Wog57sBn0b4
56) New Order - Blue Monday
https://www.youtube.com/watch?v=FYH8DsU2WCk
57) Fad Gadget – Ricky's Hand
https://www.youtube.com/watch?v=NQO1DP2KNyM&t=11s
58) Fehlfarben – Ein Jahr (Es geht voran)
https://www.youtube.com/watch?v=s10U_efDHME
59) Sigue Sigue Sputnik – Love Missile
https://www.youtube.com/watch?v=PfHxsjH0bUI
60) Dollar – Mirror, Mirror
https://www.youtube.com/watch?v=BVyt8ZlTt8g
61) Captain Sensible – Wot
https://www.youtube.com/watch?v=9Q6YJ-r5SQs
62) Palais Schaumburg – Wir bauen eine neue Stadt
https://www.youtube.com/watch?v=GI876rqao8A
63) Laurie Anderson – O Superman
https://www.youtube.com/watch?v=Vkfpi2H8tOE
---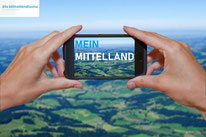 Menschen zeigen ihr ganz persönliches Mittelland. Wer gerne sein Mittelland zeigen möchte, kann dies hier tun
-> Mein Mittelland